Does the area on top of your bedroom drawers look like The Land That Time Forgot? Keep finding hairclips in all the wrong places? Has beside your sink become the unofficial home for a pile of facewipes? Then you need to get the tools out and get some DIY beauty hacks on the go to make your daily routine that much easier.
In this post I'm going to show you 6 tips that will help calm the storm that is your scramble around the house to get ready. And it all involves from very simple tips that won't be expensive. After reading through you'll have the urge to start cleaning your makeup away faster than a Beautician at closing time on a Saturday. Let's get started with some takeaway.
Tip 1: Don't throw out your Chinese
Prone to having a takeaway after a big night out? Don't know what to do with your tupperware afterwards? Give it a deep steep in the sink to get rid of any frgrant smells and throw them in a drawer where you can organise all your little things without ever running the risk of a foundation rolling behind your drawers and being found a year later (we've all been there) Of course, if you're a little more inclined for something classier, you can buy clear organisational boxes and drawers at IKEA that do the job too.
Tip 2: Light It Up
Ever find yourself running between your bedroom and bathroom when putting on makeup because the lighting is better by the sink? Get some cheap bulbs and a light strip and you're sorted. As you can see in the video here from YouTube Vlogger oxlisalouxo, it is almost too easy to do in just an hour.
Tip 3: Keep Lashes longer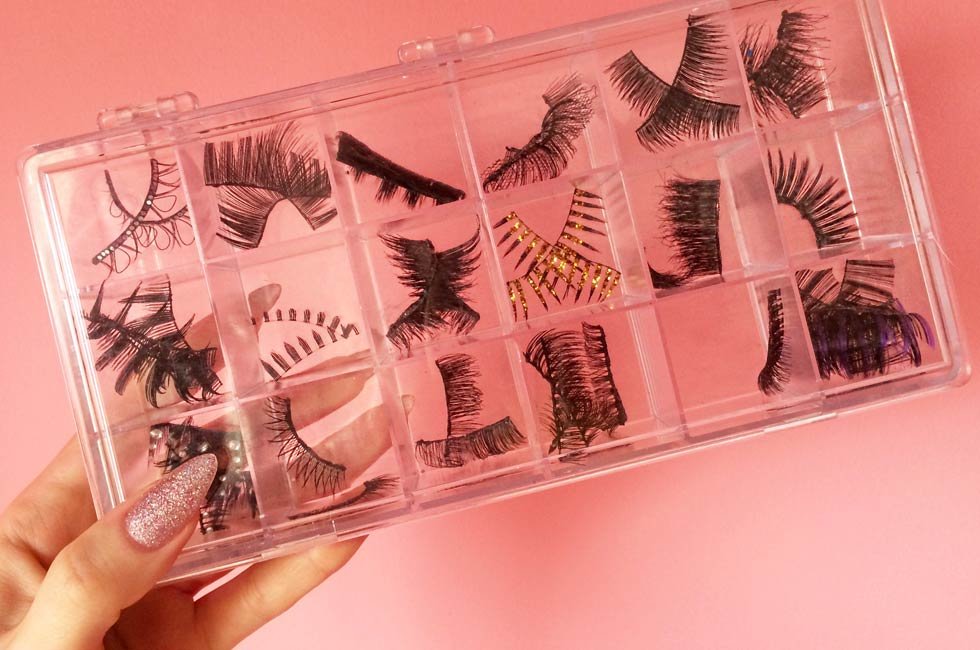 So you've went and had eyelash extensions done properly and they look great. They're looking so great in fact that you want to treat them like they're the most important thing in the world. I seen this tip on a blog and thought it was rather ingenious. This box isn't a jewellery box but the kind you find for only a few pound in fabric shops. They're commonly used for storing sewing items and beads, but having them keep lashes clean, and most importantly not stuck together, is great.
Tip 4: Out Of Sight, Out Of Mind
So this I think is the ultimate way of essentially having all your makeup and hair stuff stuffed away in a drawer but also easily accessible. A fold shelf can save A LOT of space in your room and still help form a table (although just don't lean on it so hard). This example is of a Besta shelf from Ikea. It is advertised as a drawer for CDs and DVDs but as you can see , you can easily put anything you want in there.
Tip 5: Hang Your Shoes
Give a girl the right pair of shoes and she'll conquer the world.
If you don't know who said those mighty words, then you don't know your beauty queens well enough (it was Marilyn btw). I used to have a big problem of kicking my shoes off right under. That would lead to a mini-excursion under the bed when trying to figure out what I'd be wearing out. If that sounds like something you find yourself in a lot, then don't go buying a dear shoe storage box (the ones with the pneumatic braces on the side that cost a lot) If you want show storage that's a little different, go to the office storage section of a DIY store and get one of these:
You usually see these used in cafes and greasy spoons for holding newspapers and magazines, but I love just how well they can hold a shoe (and for incredibly cheap too)
Tip 6: Get yourself a tray
Have friends over and constantly find yourself jumping from room to room while you all get ready? Then why not get a handy tray that you can put anything on and whisk about the house with it. And yes as the photo shows, it's also the perfect place to keep your drink on too!